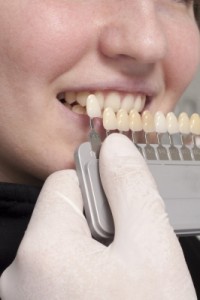 We have seen a number of technological advancements in dentistry, but none have been as impressive as same-day crowns. No longer are patients required to wait 2-3 weeks with a temporary crown while a laboratory creates a permanent one. Cherry Creek Dental now has an in-house machine to create a crown for you while you wait comfortably in the office. Based on the complexity of the crown, it can take just under an hour to create. Same day crowns are only used by about 10% of dental office, and we are fortunate enough to own one of the computer-aided devices.
How Same Day Crowns Work
First we will prepare the site for a crown. The area will be numbed if the tooth is live, if you have had a root canal, the tooth will not need anesthesia. There may be a couple moments of uncomfortableness while we press hard to ensure the crown is securely in place. Instead of making an impression of the tooth, we will create a 3D image of the tooth using computer aided design. The tooth will look almost identical to the one that is being crowned, keeping your smile integrity and ensuring that you do not have an improper bite. All the details of the tooth are created within the machine, creating little ridges and indentations. The tooth is carved from porcelain and then glued into the mouth when it is ready.
Crowns for Front Teeth
We work hard to create the best tooth to suit your cosmetic needs. Patients with a broken tooth below the gum line, or those in need of a front tooth may find it is best to have us create an impression and send the tooth to a laboratory as it is highly visible. The front teeth are those that need to look realistic as they need to have certain coloring added to them to make them look perfect. Computerized systems still come into play with a front tooth that is created. The computer-aided technology allows a patient to have more control over how the tooth looks, which is a far cry from the past when teeth came in certain shapes, colors, and sizes. These modern advancements make the crown match as perfectly as possible to your existing teeth.
Same Day Crowns for Dental Implants
This new technology is one of the best methods for patients needing tooth implants. We can begin the implant process when a titanium screw is secured in place. We create a crown that attached on top of the stub. The stub and fit to the crown need to be precise or the implant can fail.
For more information about same-day crowns, contact Cherry Creek Family Dentistry in Richmond, UT, 435-319-6212.